iYura Day and Night Duo Set for Healthy, Glowing, Youthful Skin!
To wear (makeup) or not to wear', is that the question?!
How often do we feel as to why (and how) makeup has turned into a necessity rather than remaining just a choice of expression?
And how often do we, in search of quick, ad hoc fixes, tend to overlook one of its most integral caveats – its long-term impact on the skin?!
If questions such as these often cross your mind, here's something much desired, much warranted.
Now, you don't necessarily need a 40-minute facial with 5 products to get results!
Neither do you have to resort to those dependency-forming chemical-based cosmetic products to bring out the prized confidence-boosting, enviable look.
How?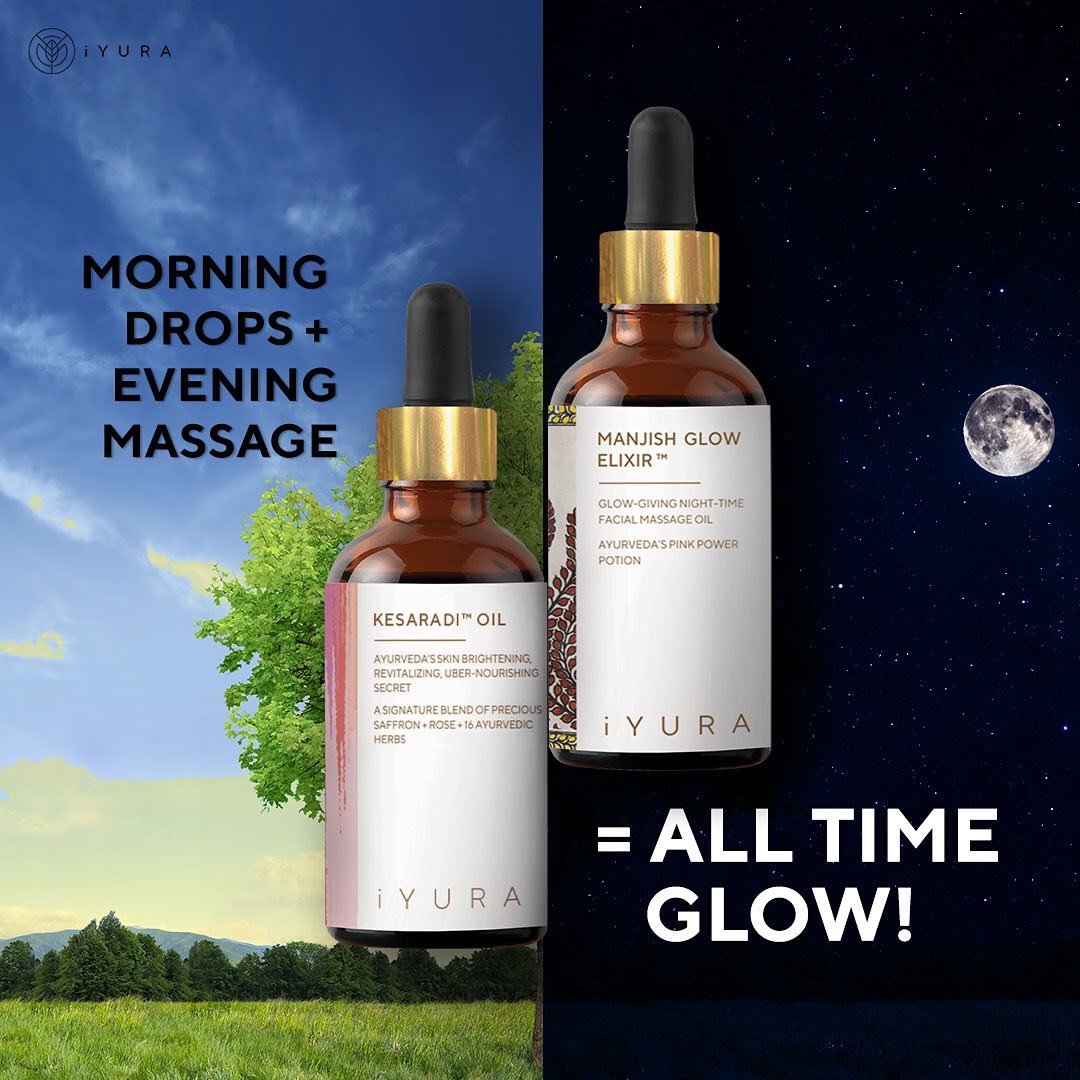 *
Because with the iYURA Day and Night Set, you can effortlessly wear that elusive youthful charm and a happy, healthy glow round the clock.
This thoughtfully-put-together, no-caveat skincare set brings together two of our absolute customer favorites, which have been prepared following the traditional methods suggested by Ayurveda –
iYURA Kesaradi, our '3 drops daily to drop-dead gorgeous' formula, leaves you with a fresh, dewy glow that fetches you those heartwarming compliments as you begin the day.
And iYURA Manjish Glow Elixir – the fan-favorite Night Oil that not just gently soothes and moisturizes the tired-looking skin but also ensures that you wake up with the morning skin that looks youthful, refreshed, nourished.
Just '4 Drops, 5 Minutes, Every Night, and You Won't Want Makeup Again'.
These all-natural, pure, premium Ayurvedic blends are free of artificial fragrances, perfumes or coloring agents, and do not contain Alcohol, Glycol, Parabens, Propylene or any other form of inorganic synthetics, chemicals, additives or binders.
And if, by now, if you've already finished The Ayurveda Experience course, you must have an idea about how Ayurveda has a unique approach to skincare, with its timeless wisdom on skin-nourishing herbs and meticulous processes of preparation of oils.
These oils come packed with the proven goodness of time-honored Ayurvedic ingredients, such as Saffron, Rose and Turmeric (in the Morning Oil) and Indian Madder, Lemon and Licorice (in the Night Oil)
(Not a drop of chemical goes into formulating these pure, natural, premium beauty elixirs)
With regular use, these glow-revealing oils can make your skin look clearer and more even toned, with reduced appearance of blemishes and pores, and an enviable, enamoring glow.
Here's a sneak peek into the experiences of some of our customers who have already embraced the 'Ayurveda way to Beauty':
"Simply glorious products … the luxurious oils smell and feel beautiful on my skin. They absorb completely and leave my skin dewy and radiant " – Jo J.
"I was exceptionally impressed with this duo. My skin is very sensitive to artificial fragrances and preservatives. The Ayurveda combination seems to nourish and refresh my skin giving me a smoother clear complexion. Only five drops needed to…boost confidence to face the world! No other facial treatment or application has yet been able to achieve this affect. Highly recommend Ayurveda duo." – Penny D.
"Overall experience with the day/night oil and Kansa wand has turned boring moisturisation into a beautiful, relaxing ritual both morning and evening. Saw a glow from the first time I used it. Skin is soft, supple… Get your hands on this magic oil set and watch your skin and face come alive!! Beautiful company with magical oils. 11/10 if I could score that highly!" – Helen Q.
Disclaimer: This post contains affiliate links.